I am a fan of new things, a big fan. I enjoy the idea of finding new books to read, new music to listen to, or new a fashion piece to try on. The other day, I've been thinking about how I've been sharing so little of the said new things I have going on in the current. So today, I thought it would be a great idea to talk about the *new* things I'm currently reading, wearing, listening, and watching.
CURRENTLY READING
The Picture of Dorian Gray by Oscar Wilde
This book has always been in my TBR list only I never got around to reading it back then. Earlier this month I finally purchased a copy together with Dubliners by James Joyce, and I just couldn't get enough of it. I actually haven't finished it because I'm loving it too much I simply don't want it to end. The writing is just everything I'm looking for in any literary piece, and it's dramatic, I swear it really is. And I have always been fascinated by dramatic fiction. It's full of exceptional prose and the way Wilde crafts each sentence is extraordinary. I wonder how one can write in such a consistently beautiful manner. Oscar Wilde certainly has a way with words. The Picture of Dorian Gray is easily on its way to becoming one of my favorites.
Dubliners by James Joyce
This one I surprisingly like. I remember reading Ulysses and it was just… well… EXHAUSTING. My literary pet peeve would have to be the train of thought kind of writing (hi there, Virginia Woolf), and there was a lot of that in Ulysses. However, I noticed that Dubliners was written in a very different way. This book contains fifteen short stories that provide insights into human life, passion, and emotion, and features Dublin and its people. The characters are interestingly complex and captures realism in the perfect way. This is the type of book you'll want to be reading at midnight with a cup of tea in your hand as you dive deep into Dublin and its culture.
CURRENTLY WEARING
ARANÁZ Geo Bucket Bag
My recent obsession would have to be bags, I'm not even kidding. Lately, I've come to realize that it's always nice to invest in good bags. This Aranáz bag is a gift I got for my birthday and I was just so delighted by it. I remember just having this on my wish list months ago and I can't believe I actually already have it! I love it mostly because of its vase-shaped bucket body, it just looks so unique. Aside from that, it's handmade in the Philippines, and I don't know if I've ever said this before but I adore handmade products more than anything.
The bag is available on the Aranáz wesbite for Php 6,500, but if you like, you may also check the product out in their physical boutiques at Rockwell, Greenbelt, and SM Megamall.
CURRENTLY LISTENING
Tove Styrke
Last month, I found her on my Spotify recommendations and I honestly have her songs on repeat since then. Her latest album was released last year (2018) and every single track on it I'm genuinely in love with. I first stumbled upon Say My Name, had it on loop for about a week, and then I decided to give her profile a check, and I found out that all her songs were actually soooo good. Aside from Say My Name, I'd say that Sway, Number One, Changed My Mind, and I Lied are my absolute favorites.
Here's a little playlist I curated to show you what I mean, I swear, she's worth the listen!
CURRENTLY WATCHING
The Office
Yes, I know! I am TERRIBLY late to the party!!! And I don't like the fact that I am late to the party!!! The thing is, I discovered this show through Tumblr memes, and I would usually just scroll past them. But then I saw this gif: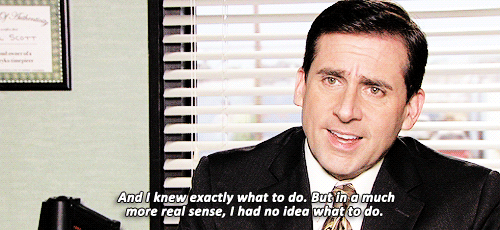 Well, as you can see, that was enough to pull me in. I'm currently in Season 8 and I'm taking my time, I don't want it to end! But hey, an unpopular opinion: the show was better with Michael on it. I'm sad he had to go, I mean, I love all of the other characters but it's just not the same without Michael! Aaaand, another unpopular opinion, I really, really, really love Ryan. Sorry, I think he's cool!
abigailscupoftea on YouTube
This girl is killing the YT game! I swear!!! Not only is her aesthetic soooo perfect, but she's also such a sweet and lovely girl with a kindhearted personality, and you can see that in her videos. Oh, and did I mention she's also a huge Potterhead? She has really fun vlogs to watch and I enjoy her Wizarding World vlogs the most. Abigail is definitely my favorite Hufflepuff!
Go check out her videos here, and her Instagram over here is also a must-see.
—
That wraps up today's post! Definitely can't wait for my next All Things Current.
See you around!